Competitor Analysis
86
With Video On Landing Page
22
Satisfied With Their Conversion Rates
7
From 1-Second Page Load Delay
Completing a competitor analysis and a digital marketing review or a strategic marketing plan spans many disciplines and covers many topics. Here's what you should consider.
1) Expert Strategy With A Digital Marketing Consultant
Owners of most businesses are experts at what they do, but find the world of Digital Marketing to be overwhelming. This is especially true when you consider the breadth of tools, techniques, and knowledge required to do it even reasonably well. The good news is, digital marketing works very well, but it does take an experienced digital marketing expert to navigate the options and put in place the best plan for your goals, while you continue delivering your product or service.
The Competitive Analysis Process
A Digital Marketing Consultant (or SEO Consultant) will work with you to first understand your business and goals and then create a plan (IBA – Internet Business Analysis) to show how you can reach your goals using the latest digital marketing tools and techniques. That could mean a mix of SEO (search engine optimization), PPC (pay-per-click advertising), social media or other tactics that will form a digital marketing strategy plan for your business. This IBA involves a great deal of research and experience with the latest trends in digital marketing and will be presented to you along with recommended next steps.
When trying to position your business in the best way online, it's always an important step to compare what your competitors are doing and note what they are doing comparatively well and poorly. Armed with this information, you can make informed decisions about what you should do to improve your business' visibility and growth strategies using digital marketing.
There are five key areas we focus on in a competitor analysis:
Website Content Benchmarks
Search Engine Optimization
Pay-Per-Click and Remarketing
Social Media Engagement
Lead Nurturing Calls to Action (Conversion Optimization)
Competitor Analysis Process Video
3) Website Conversion Optimization Analysis
It's one thing to have a beautiful, responsive website, but another thing entirely to make sure the website is converting visitors into customers for your business. That's called "Conversion Optimization".
Your website should adhere to a set of digital marketing best practices to make sure it's doing its job, which is to convert visitors into customers. "Conversion" for you may mean prospects picking up the phone and calling you or filling out an interest form or some other valued action on your website. Whatever your goal, your website can't just be pretty – it has to convert! Otherwise, you've metaphorically spent a lot of money on a fancy sign that doesn't bring in any new customers.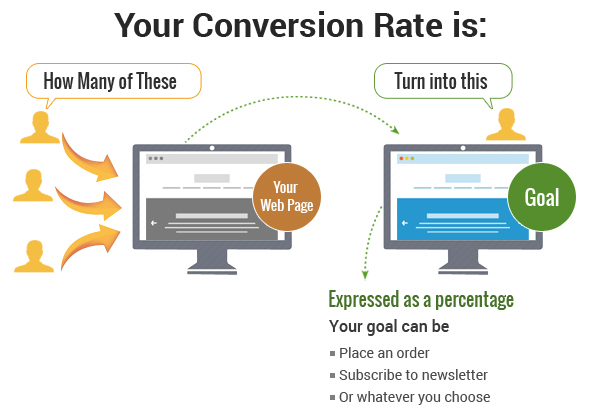 Conversion optimization means focusing on content that talks about benefits to potential clients (not the features of your offerings), calls-to-action and a way to track what is working and what is not. It's optimizing for fast-loading page speed and reducing any friction that might be causing would-be clients to leave and go elsewhere.
If you don't have a conversion-optimized website, your business is likely missing out on many leads that could be yours.
Managing a PPC (Pay-Per-Click) ad campaign is not easy. There's a lot of nitty-gritty details to manage and optimize. That's why the certification guides are hundreds of pages in length and require significant experience to do properly. Without an optimized PPC campaign, you're very likely wasting money and losing lead opportunities every day.
If you've been running your own PPC (pay-per-click) advertising campaigns, or if you are not happy with the results from a previous campaign manager, we can run a diagnostic on your advertising campaign and report back on and implement optimization opportunities.
We'll check to make sure every dollar spent on PPC advertising is money well spent and if not, come back with a plan to get things on track.
5) Customer Persona Creation
Personas represent your ideal client – the demographics, psycho-graphics, and needs that your ideal (or most typical) customer has… personified in a named summary that can be referred to for all future digital marketing efforts.
When we know who we are marketing to, all of the messaging and targeting can be laser-focused to reach your true potential clients and avoid wasting your marketing dollars on spreading a message to people who are unlikely to become your clients.
We can work with you to help identify the personas most important to your business and then use these personas to craft your message specific to them.
If you are in need of an overall strategic marketing plan, our team of experienced sales and marketing professionals can work with you to create a plan that includes (but is not limited to) digital marketing, off-line marketing, on-premise enhancements, sales process, and help put together all of the component pieces of your marketing puzzle.
Each business is slightly different, so this process will involve us understanding your business and goals and then strategizing with your leadership team about the best way to reach your organization's goals.
The output is a clear and focused marketing strategy document that will serve as a guide for all marketing efforts for the next few years for your organization. Adherence to the plan in this document is the best chance for reaching your organization's goals.
Contact us for more information about a competitor analysis for your business today.