Cite Website Design As #1 Factor In Business Credibility
Of All Consumers Search Local Businesses Online
Feel Non-Responsive Website Means The Business Doesn't Care
Web Development
Anyone who runs a business knows that having a website is no longer optional: it's a must, and not just any website will do. Hiring a web developer and investing in professional responsive web design can make an enormous difference to your company's image and bottom line.
Responsive web development emphasizes that a website should not only look beautiful but function smoothly and serve its intended purpose as well. Each of the components below works in tandem with the others to create a fully functional, multi-faceted website that is tailored to suit your company and cater to its target markets.
1) Wireframing
In the early stages of planning, a website's visuals are secondary to its functionality; that's where wireframing comes in. Wireframing involves making a basic outline of the arrangement of features on your webpage, marking where specific elements like text fields, drop-down menus, and buttons will go. This process must be repeated again for every different screen size you wish to accommodate – virtually all sites need at least one additional wireframe to account for presentation changes on small, typically vertical mobile screens.
Wireframing used to be done with sketches (on paper or with software), but with recent capabilities in rapid prototyping for websites, is now much simpler (and easier for you to evaluate) to simply discuss your needs and create a draft web page for you to view in the context of the whole website.
This stage allows you to consider the layout and interactive potential of your website before any effort is made to dress it up with content, typography, and graphics. This way, you can make as many changes as you like before deciding on a final layout without having to redo any of that extra work. This is when you will plan everything from your website design blog to your e-commerce system. Everything needs to be included in the wireframe.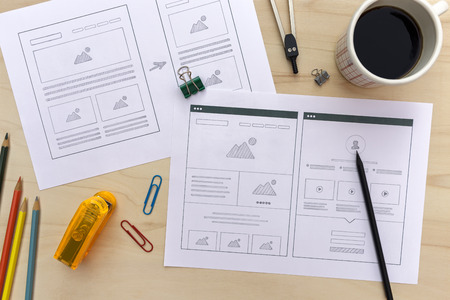 2) Mobile-First, Responsive Web Development
In late 2016, the volume of people browsing the web on mobile devices (phones, tablets) surpassed that from desktop computers. Now, more than 50% of all searches for local businesses are from mobile devices – and that number is climbing every month.
A website should be designed to deliver your message properly on desktop browsers, tablets, and mobile devices. These days, responsive web development is the most cost effect and SEO-friendly way to have a site appear properly on all physical media sizes. To check for responsive web development, just resize your browser to be more narrow (like a mobile phone might appear) and watch to see if the content still appears in a usable way. Go ahead, try it on this page!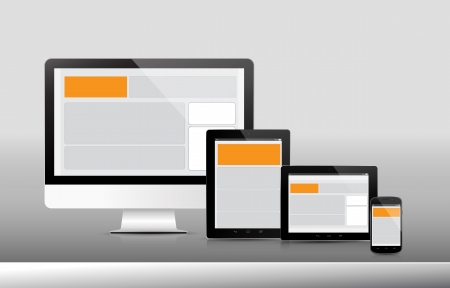 3) Sitemap
In order for your website to be useful, it needs to easily bring visitors where they want to go using a well-organized plan for your pages and menu. This is done using a sitemap, an exhaustive and informative list of all the separate pages that make up your site – organized with categories and subcategories, making it easy for your visitors to navigate and find what they came looking for.
A sitemap does more than just provide a useful navigation tool for human users; it also helps search engine bots to fully probe all of your site's pages (hopefully constructed with search engine optimization (SEO) in mind) and rank it accordingly. Doing a less-than-thorough job on this step will result in a site that not only frustrates users but also fails to rank as highly as it could.
4) Landing Pages
A website should mainly be a collection of "landing pages" which are designed to convert someone who discovers the web site from a search engine. When someone searches for your product/service on Google, the link they click on should be very specific to the keywords they used to find your site (not just to your home page). When users have a contextual flow from their keyword search to your website, they are much more likely to find what they are looking for and convert to buyers.
Landing pages are specific pages set up to inform people who come to your site through a given link to something very specific. They can be used to direct people to a lead generation form which will prompt them to enter their email address or other contact information, typically in exchange for some exclusive information or content.
These pages are invaluable when building up your collection of leads for coming campaigns, and they are proven to be even more effective when a business uses separate landing pages for different types of incoming traffic. For instance, you might have one landing page created for users who find your site through typical search engine methods, and another for those who find you through a particular social media link you've circulated.
5) On-Page SEO
SEO (or search engine optimization) is the cornerstone of web marketing that helps websites appear in more prominently and in higher placements in relevant search results lists; these top spots get most of the search engine traffic and a large influx in sales to go with it. SEO requires techniques like scattering strategic keywords in both the text and the URL, including outbound links to reputable sources, and focusing on long-form text content.
Each page must also be engaging enough to keep users on it for at least a few seconds – the longer, the better. Conforming to all these requirements and still producing an attractive, innovative website is a challenge that separates great marketers from mediocre ones.
Search engine optimization comes in 2 flavours:
On-page SEO. This is whatever you can do on your own website to make it easy for Google and other search engines to index. It's making landing pages that are relevant, based on keyword searches and standards-based code with behind the scenes metadata to make search engines favour your page.
Off-page SEO. These are actions you can take outside of your website, usually in the form of quality links back to your site which help Google and other search engines recognize you as the expert you are in your particular niche.
When having web development work done for you, make sure the developer has on-page SEO experience and implements that as part of the process since this is often ignored by web developers.
NOTE: Complete SEO cannot be achieved by having a great website alone. Off-page SEO accounts for 70% or more of the weight of good Search Engine Optimization. Off-page SEO is a separate ongoing service and is best performed by an online marketing expert, not someone who is principally a web developer.
6) Conversion Optimization
Most web developers focus only on how a website looks and create the site content as an afterthought. Yes, your website should look appealing, but the real measure of a website's effectiveness is if it converts visitors into buyers.
The ultimate purpose of a business website is to sell things; a good website is built to actively influence people to buy. Conversion optimization is the practice of attempting to maximize the number of visitors who eventually become customers. This doesn't always mean that the goal is to sell directly through the site – a common alternative approach is to try to prompt visitors to give you their email address instead, which then allows you to target them with more personalized email marketing campaigns later on.
A website designed to convert visitors into buyers consists of a collection of landing pages based on different keywords related to your product/service. As such, keyword research is an important preliminary task before the outline/content of the website is set.
There are many techniques that can be used to push your visitors closer to conversion, including adding images and testimonials to incite interest and trust or finishing off with a call to action to remind viewers of how they can get in touch with you. These are just a few possibilities among many and finding the right combination for your business' audience will require some experimentation, but the final payoff will be significant.
7) Website Maintenance
A business website can't afford glitches or downtime since you never know when a customer might be looking for your products/services. Like all websites, they need regular attention to continue functioning optimally.
Basic check-up procedures (such as verifying that the site loads at a decent speed, that there are no broken links in the text, and that the site is properly backed up in case of an emergency) must be performed at regular intervals to make sure that everything stays in good working order. The site should also be regularly updated with new content and any applicable changes to contact or product information so your customers can stay connected to your business news.
8) E-Commerce
Online storefronts (E-Commerce websites) have special/more considerations to take into account with regards to their construction than most websites do. Security is paramount to avoid theft or any leaks of sensitive customer data, for instance, and the interface must be even more carefully crafted to make purchasing as easy and intuitive as possible. If you require this type of web development, be sure to say so during your consultations so that we may properly address the unique needs of an e-commerce website. We can find the perfect e-commerce manager to make the administration of your shopping cart a breeze.
9) Common Elements
Visitors take in the look and feel of your website in a fraction of a second. They judge whether they are comfortable navigating your website by recognizing common elements such as menu, logo, main content, and sidebars. While your website should be unique and visually appealing, it should have common elements that are readily recognizable and don't cause the visitor any delay or confusion in consuming your content.
Your site should include a top menu with your logo at the top left or center. The page should have a large visual component and a way for the visitor to contact you. It should also have an obvious main content area and a footer. Also, websites that feature testimonials from your customers help communicate that you are trustworthy and deliver a quality product/service.
10) Communicate Your Core Story
People care about their own needs, not about your company. Website landing pages must be written in the language of the user that searched and found your page rather than with industry lingo that may be unfamiliar to the visitor. Your page should inform the potential client of your expertise by explaining the benefits of your product/service, not listing the features of your products and services.
Essentially, you want to communicate your core message to the user in such a way as to set you up as a trusted expert. Since buying decisions are essentially emotional decisions (and information only appeases emotional states), a great website appeals to a potential client's desires by focusing on benefits, pre-empting questions that might cause concern, and make them feel comfortable with your expertise.
Once your message is communicated, use a clear call-to-action prompting the visitor to connect with you.
________________________________________________________________________________________________________________
With all of these topics to consider regarding web development, it's best to have digital marketing experts involved at the very beginning stages to ensure that all of the steps are completed. It's important to get a good deal on a website but beware of a website that is too inexpensive. It probably means it will be missing many of the key components discussed above.
Let us take you through a comprehensive approach to web development and ensure you'll end up with a website you'll be proud of and that helps grow your business.