Case Study:
Wedding Venue Marketing
After Just A Few Weeks, Get Found Accelerator Generates Record Sales!
Sweet Magnolia Estate opened in 2017 as a wedding venue built from the ground up.
From the start, they used an agency for digital marketing and have grown into an award-winning company.
Overnight, our innovative Get Found Accelerator has led to record sales.
What Is The
Get Found Accelerator?
Get Found Accelerator from The Digital Marketing People uses patented technology. It's ideal for local business owners. We optimize your business for Google Search and Google Maps whether you sell products or services locally.
By geo-positioning landing pages around your business and boosting visibility of a local business, we accelerate your search engine ranking.
46% of searches have local intent, and as we all know, when you search for something local, Google displays a map with a few selected businesses. These "Map Pack" results outperform paid ads and organic search results with 44% of clicks.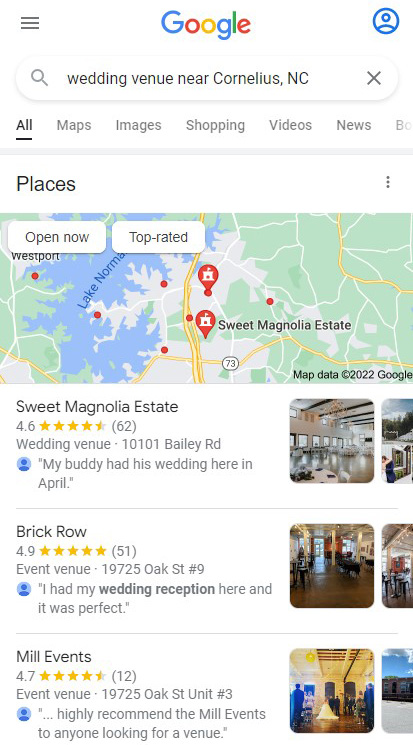 How Help You Get Found
The map shows Sweet Magnolia Estate's rankings when users search for "Wedding Venue" from each location. On these maps, there are 13 x 13 dots that are 1 mile apart, and if the number is 1, 2, or 3, Sweet Magnolia Estate will show in the Google Map Pack to anyone searching for "Wedding Venue".
First, we benchmarked before we launched the Get Found Accelerator and then again 10 weeks later. In a very short time, Get Found Accelerator elevated Sweet Magnolia Estate into the top 3 in a larger geographical area.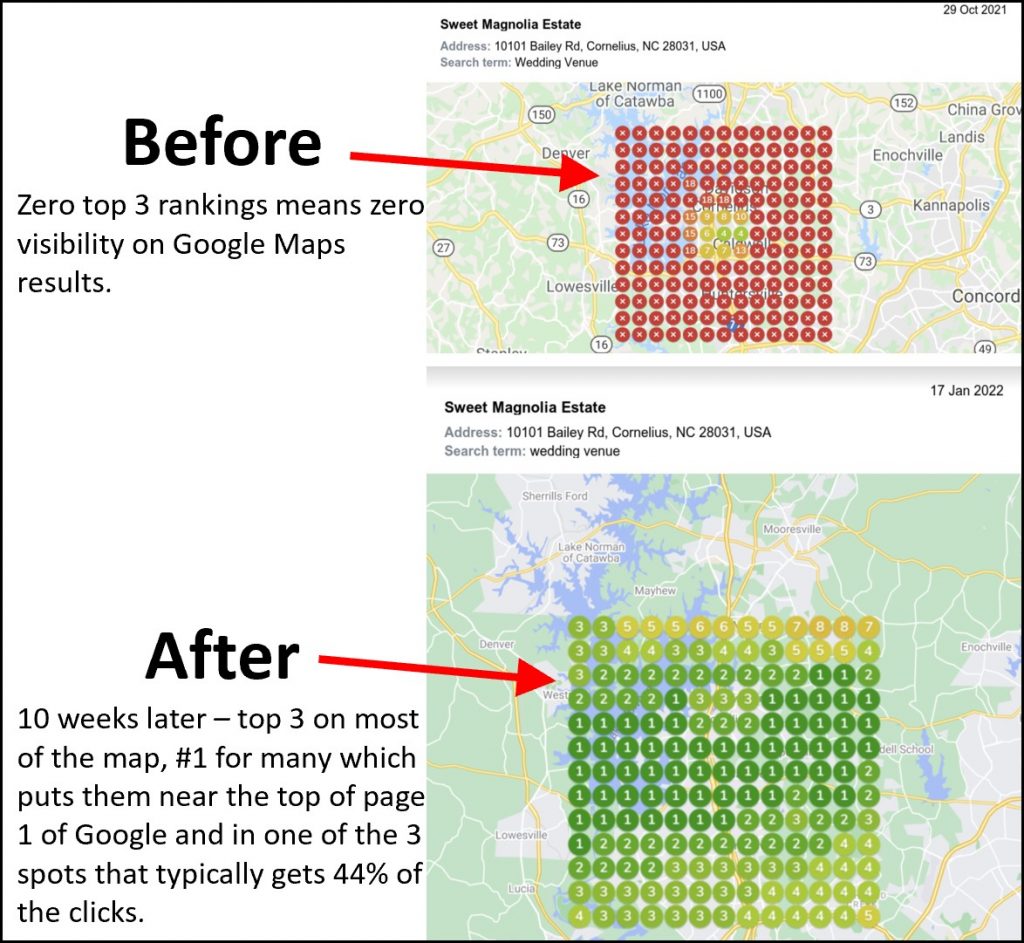 Tripled Google Profile Visibility
Google My Business listings were shown about 3,000 to 3,500 times a month before the Get Found Accelerator was implemented. After the Accelerator was implemented, visibility jumped to 9,000 to 11,000 views per month.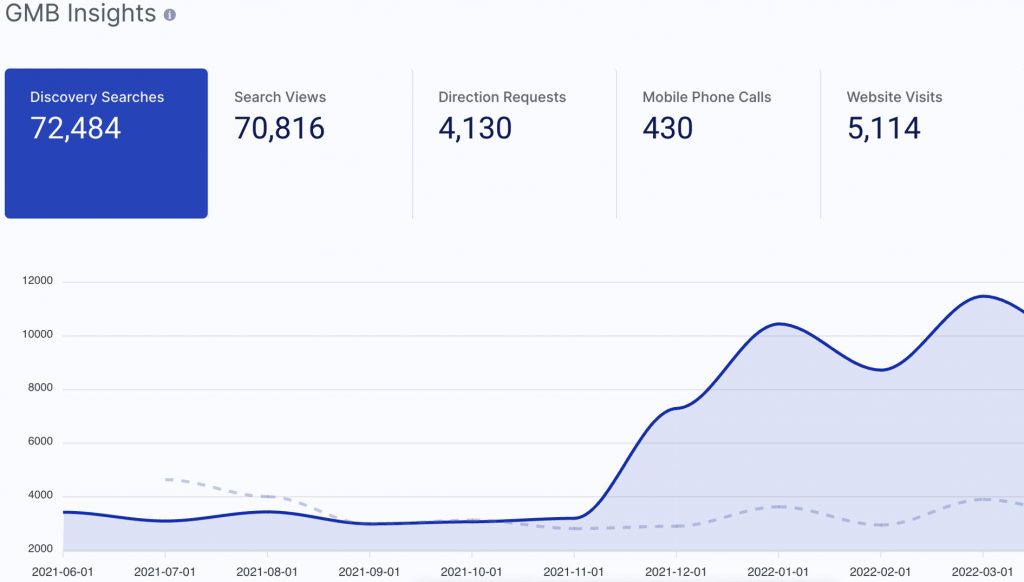 Increased Website Traffic
Sweet Magnolia Estate's Google My Business page receives an average of 15-20 clicks per day, which has led to a significant increase in forms submitted.

Increased Phone Inquiries
There has been a consistent increase in the number of phone calls coming from the Google Business Profile page in addition to the increased number of forms being submitted on the website because of the increased traffic. In the month, 77 phone inquiries were recorded.

Final Results
In just a few weeks, Sweet Magnolia Estate started receiving more phone calls and seeing more forms filled out on their website. On average, they received five forms a day from prospective customers asking about availability, pricing, and venue tours.
Two months after the Get Found Accelerator was implemented, the company experienced the highest sales volume in its history. It's elevated their business to new heights by gaining visibility in Google Map Pack to a broader geographical area.

Become One Of Our Happy Customers
If you're looking for help with digital marketing and are inspired by the story above, then reach out to us.
Share your contact details, and we'll follow-up and arrange a time that works best for you to have a quick discussion.
We look forward to chatting!
Testimonials
"Exceptional Results!! We have been dealing with the great people at TDMP for about 3 years. When we first meet we felt confident in the level of expertise they had in digital marketing. We grew our business by 20% the first year and the growth continues. I would not hesitate to recommend TDMP to any type of business new or old. Thank you to the team at TDMP!"
"Very Personable. They are very responsive and right there working with you throughout the entire process which I really appreciate. The website got done very quickly and they were very professional throughout. Each step of the process was completed on time and there were no issues at all. I recommend these guys to anyone who needs a website for their business."
"Always There When You Need Them. The Digital Marketing People really do a good job of taking care of us. Whenever we need some help they are always available – some things that are time sensitive and it really helps to have someone who is always at the ready. These folks are very helpful and friendly and their service is invaluable. I cannot recommend them highly enough!"
"The team met with me on several occasions to get a clear vision of what my needs were for my website and then communicated with me regularly throughout the process to ensure the project was coming together as I had hoped. Very friendly, professional and efficient!"