Do you have 20 minutes to work ON your business instead of IN your business? If so, reading this article will give you hands-on tips to double your sales.
In his fantastic book, The Ultimate Sales Machine, Chet Holmes (the late Marketing Guru), wrote about a strategy called Best Buyer, which he calls the "fastest, least expensive way for doubling sales." This article is an adaptation of that strategy for small-medium sized businesses (SMBs) that serve their local community.
Before we get into the meat of it, lets quickly review the market for your product/service at any given time.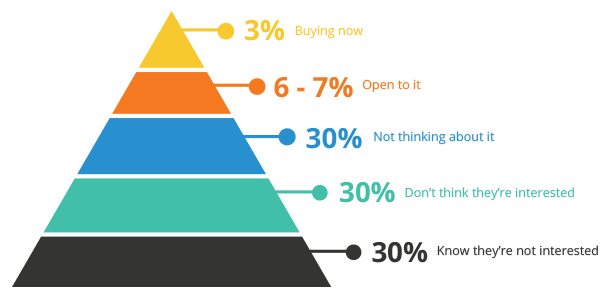 These numbers have been proven many times over. That means your direct sales efforts are only addressing that top 3% that are ready to buy now. Consider the immense amount of money and energy that is spent weeding out the 97% that aren't ready to buy now. There is a better way. Continue reading "Best Buyer Strategy – The Fastest, Least Expensive Way To Double Sales"